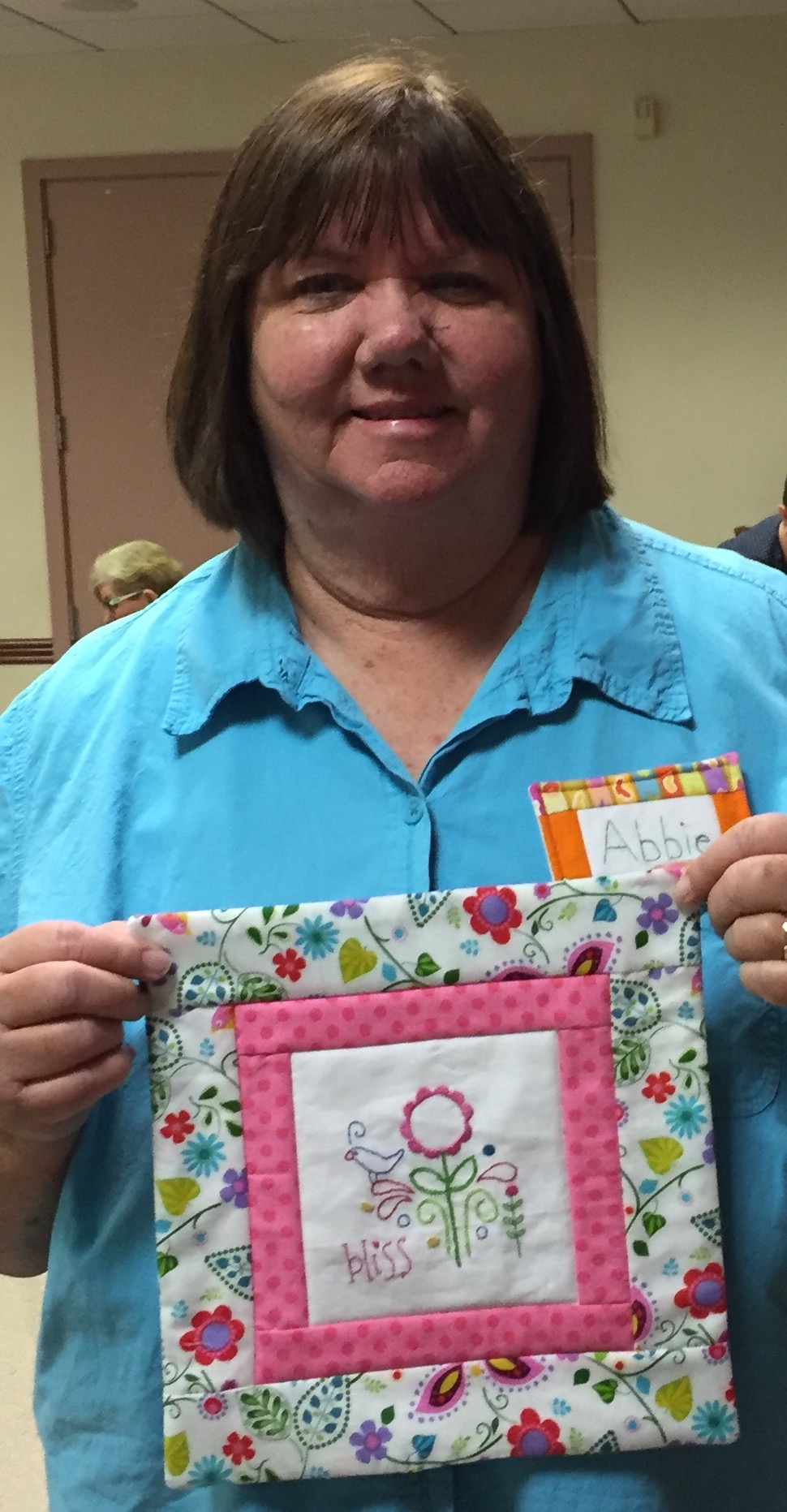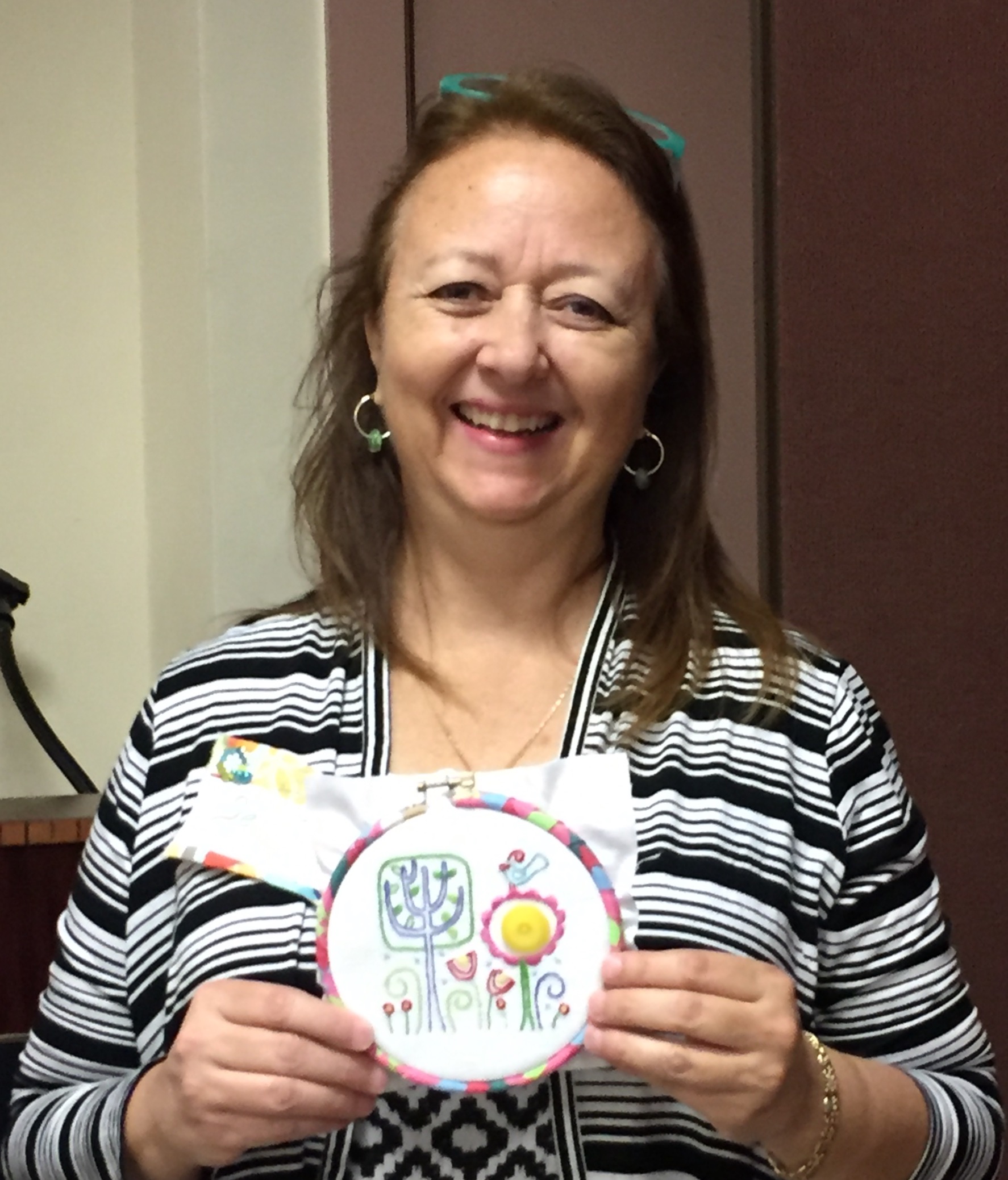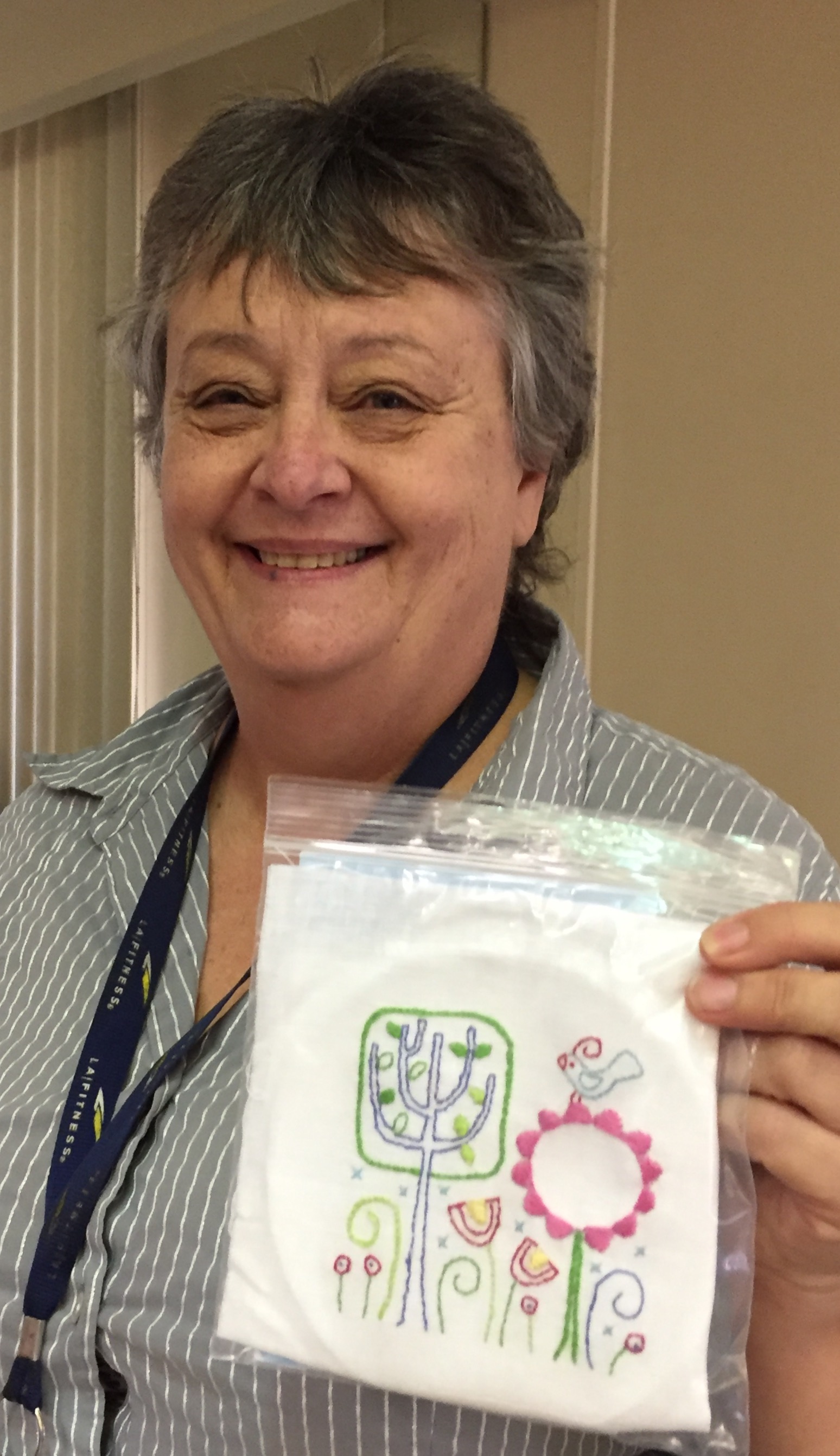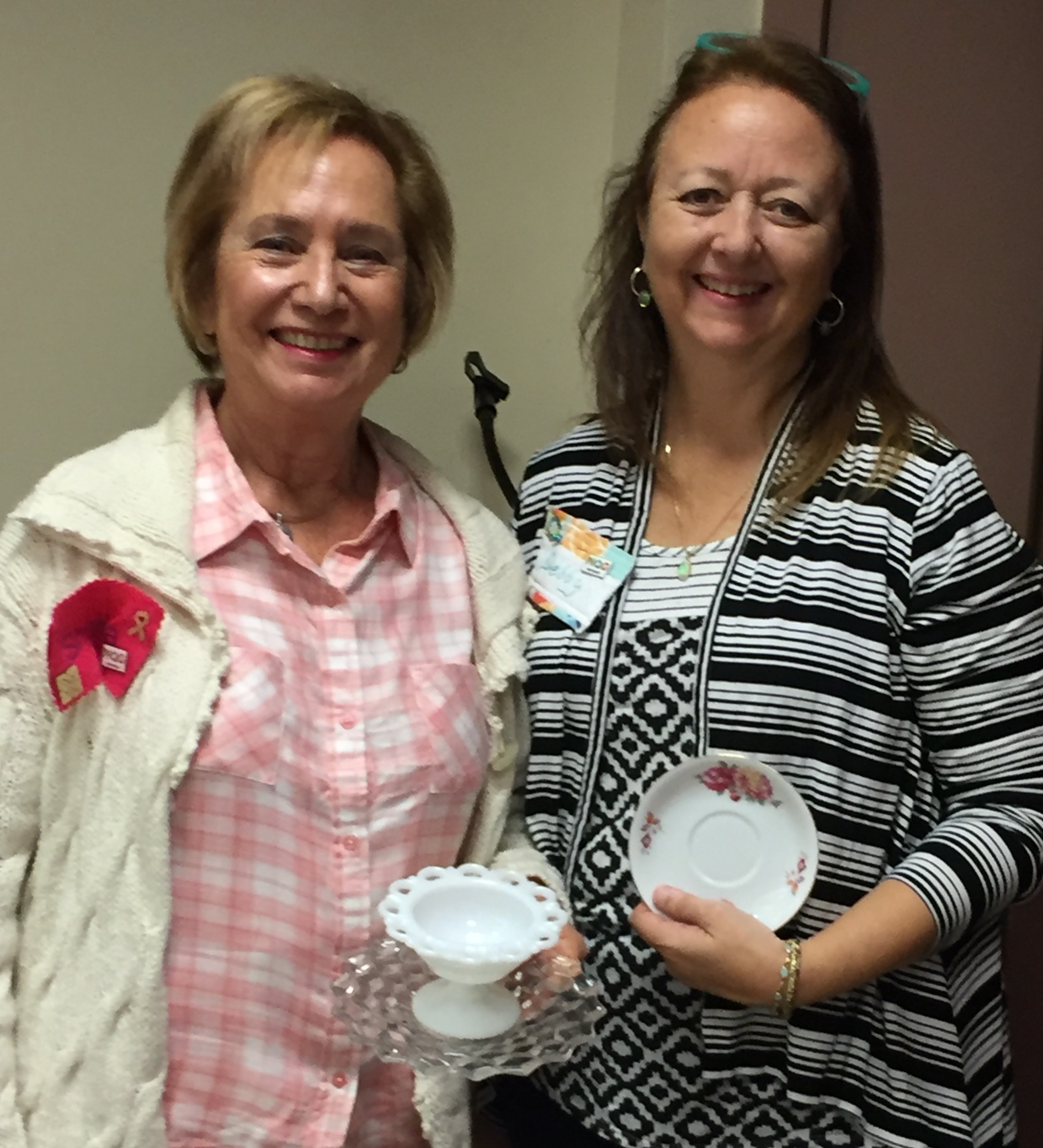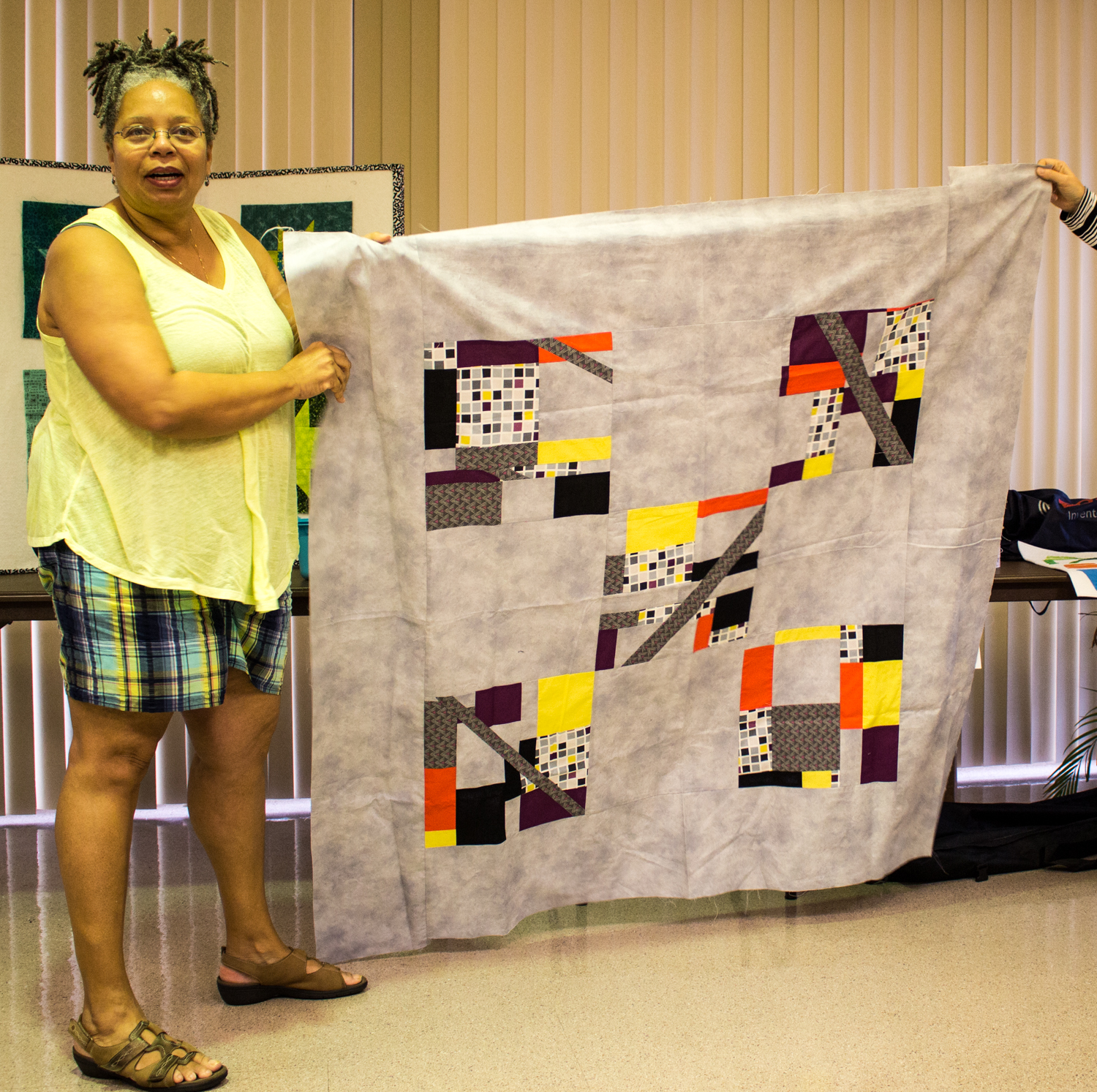 Yeah! We were very happy to have our first meeting in our new location at Patch Reef Park. We have lots of room to grow here!
President Allison Schnackenberg opened the meeting at 1pm. She welcomed four new members : Pat LoSecco (Delray Beach), Joanne Thomson Locke (Delray Beach), Yvonne Suutari (Boynton Beach), and Susan DiBartolo (Miami Beach). We also had three visitors, from Miami, Stuart and Boston!
The President's icebreaker this month was "What is your favorite quilting book?" We had some passionate recommendations from the floor, including
Liberated Quiltmaking by Gwen Marston
Word Play Quilts by Tonya Ricucci
15 Minutes of Play by Victoria Findlay Wolfe
The Improv Handbook for Modern Quilters by Sheri Lynn Woods
Modern Quilts, Traditional Inspiration by Denyse Schmidt
Sunday Morning Quilts: 16 Modern Scrap Projects by Cheryl Arkison
We had some lovely finishes on display from our Red Thread embroidery workshop. Everyone who finished was entered into a raffle and the prizewinners were : Sheila Gordon and Debby Schindall.
VP of Projects Patti Auten led us through the first month of our Improv Round Robin Quilt Along. Everyone brought in their boxes of fabric and their first completed block. Patti showed us some of the completed blocks, which were gorgeous. Patti also showed us a sample and talked us through the construction of block number two. Boxes were exchanged and we are all working away now. Be sure to post your progress on Facebook, Instagram (#sfmqg) or on the blog.
Susan Capone of the Community Service activity council gave an update on the progress with our current goal of making 10 lap quilts for a local nursing home. We already have several finished tops ready to be quilted. Member Monica Peacock made a generous donation of batting - enough to complete our goal! And member Jean Jankovich finished our first quilt for us - she did a beautiful job with some lovely applique additions too. If you are interested in participating in our project here's how:
Make some blocks. We are using two different block patterns and we have a color palette - check out all of the details in our blog post.
Take home a quilt top to put together and quilt. See Susan at the next meeting.
Donate fabric, batting or thread in our color palette.
Make some binding for us! Two and a half inch binding which will match our color palette would be great.
Our Quiltcon Charity Challenge group quilt returned home safely from Pasadena after an unplanned tour around the country. Unfortunately it came home a day late to be the star of our modern exhibit at the West Palm Beach Quilters show, but we were happy to show it off again at the meeting. We had a brief discussion about how to use the quilt to benefit a local charity - auction or donation? We had unanimous show of hands in favor of using the quilt as our guild's charity raffle quilt at next year's Broward Quilt Expo. The BQE liaison members (Allison and Charlotte) will look into this and report back.
The fabric for the MQG/Riley Blake Challenge finally arrived! Unfortunately we were not sent a list of the members who successfully registered for the challenge. We distributed fabric at the meeting to members who said they had registered. If you were not at the meeting but you did register for the challenge, please contact Secretary Debby Schindall. If we have any fabric left over we will distribute it to anyone who is interested in signing up for the Challenge at the April meeting. The deadline for completing your project has been extended to May 31st. Entries are made by posting a photo on the MQG site - full details are with the fabric.
Saturday was 25th anniversary of National Quilting Day, so we celebrated with cake and cookies during our intermission.
VP of Programs Charlotte Noll updated us on national and local quilt events, and showed us all how to navigate to her list of events on our website.
Our special topic for March was Quilt-As-You-Go. VP of Programs Charlotte Noll gave a great presentation and showed lots of samples of QAYG techniques. The presentation is archived in our Members Resources section.
Our Block of the Month was a QAYG block, and because the blocks were large and worked together really well in a grouping of four, BOM activity council chair Shelly Recicar decided to do draw two names for the lottery. The winners were Monica Peacock and Jean Jankovich. The jelly roll winner was also Monica Peacock!
As usual we had a wonderful Show & Tell with many beautiful and interesting projects to inspire us all. Have a look at all of the photos to see how talented our members are.
Our Sewtastic Basket raffle raised $63 for the guild this month! Thank you very much to all who participated. The basket contained many goodies including a $10 gift certificate for Stitchcraft, some yummy Philosophy bath goodies, a quilty water bottle, a ladybug holder for scissors and bobbins, some fabric, a ruler, and two quilt patterns. The lucky winner was Beth Schnell!
Thanks to all 35 quilters who attended our March meeting! We hope to see you all again next month.
Next meeting: Saturday April 16th at Patch Reef Park Community Center. Doors open 12:30. Meeting begins at 1pm.