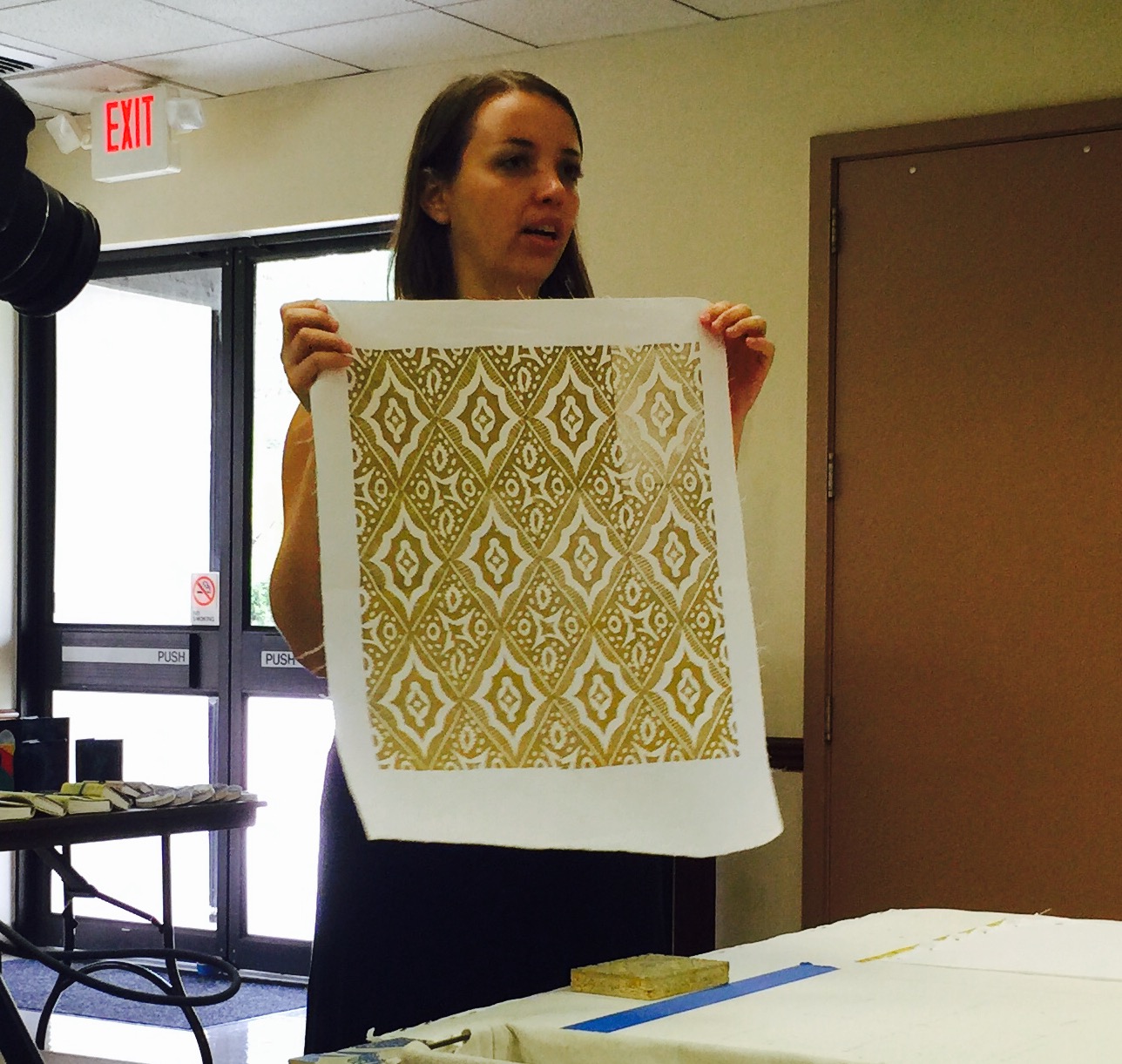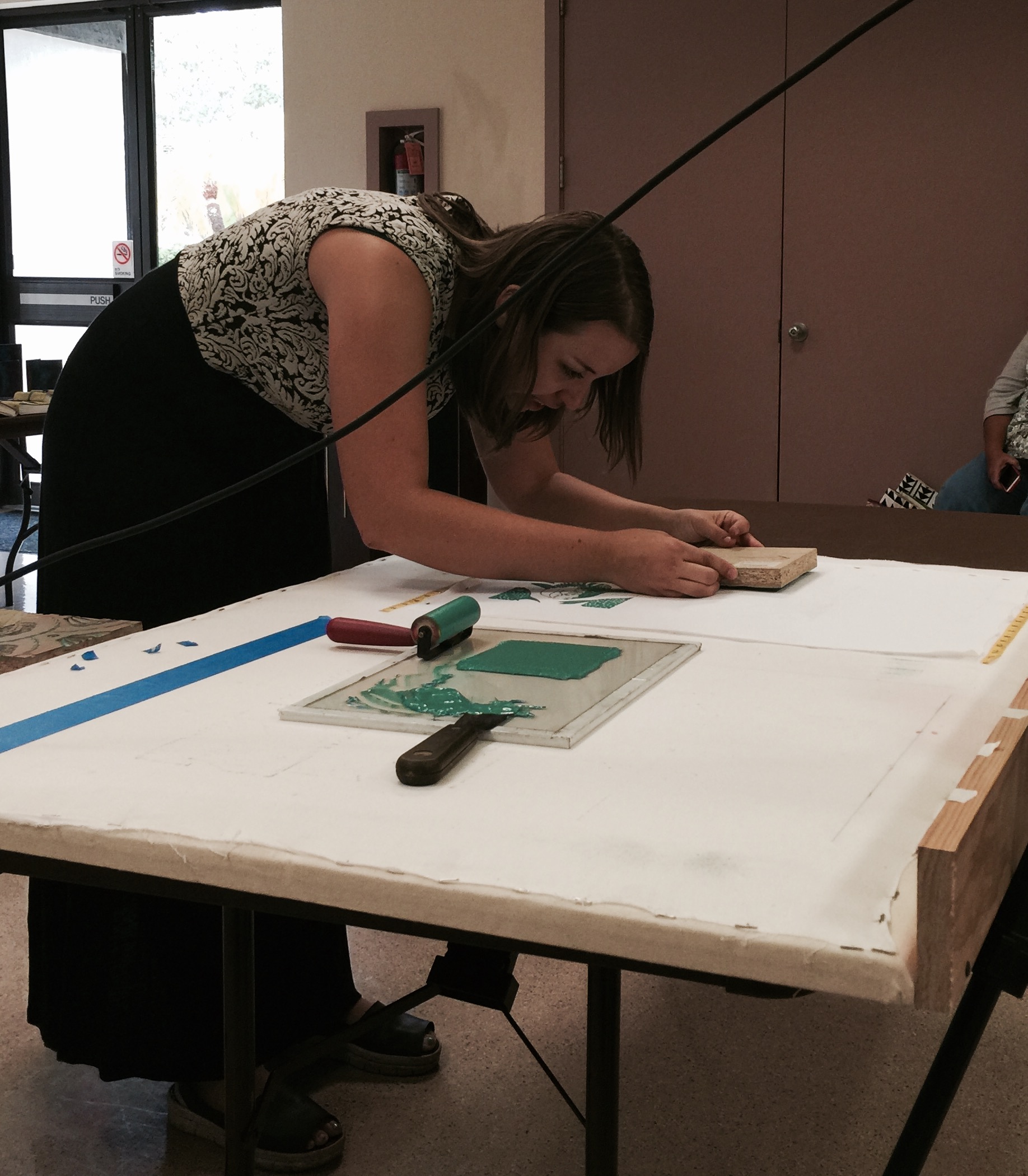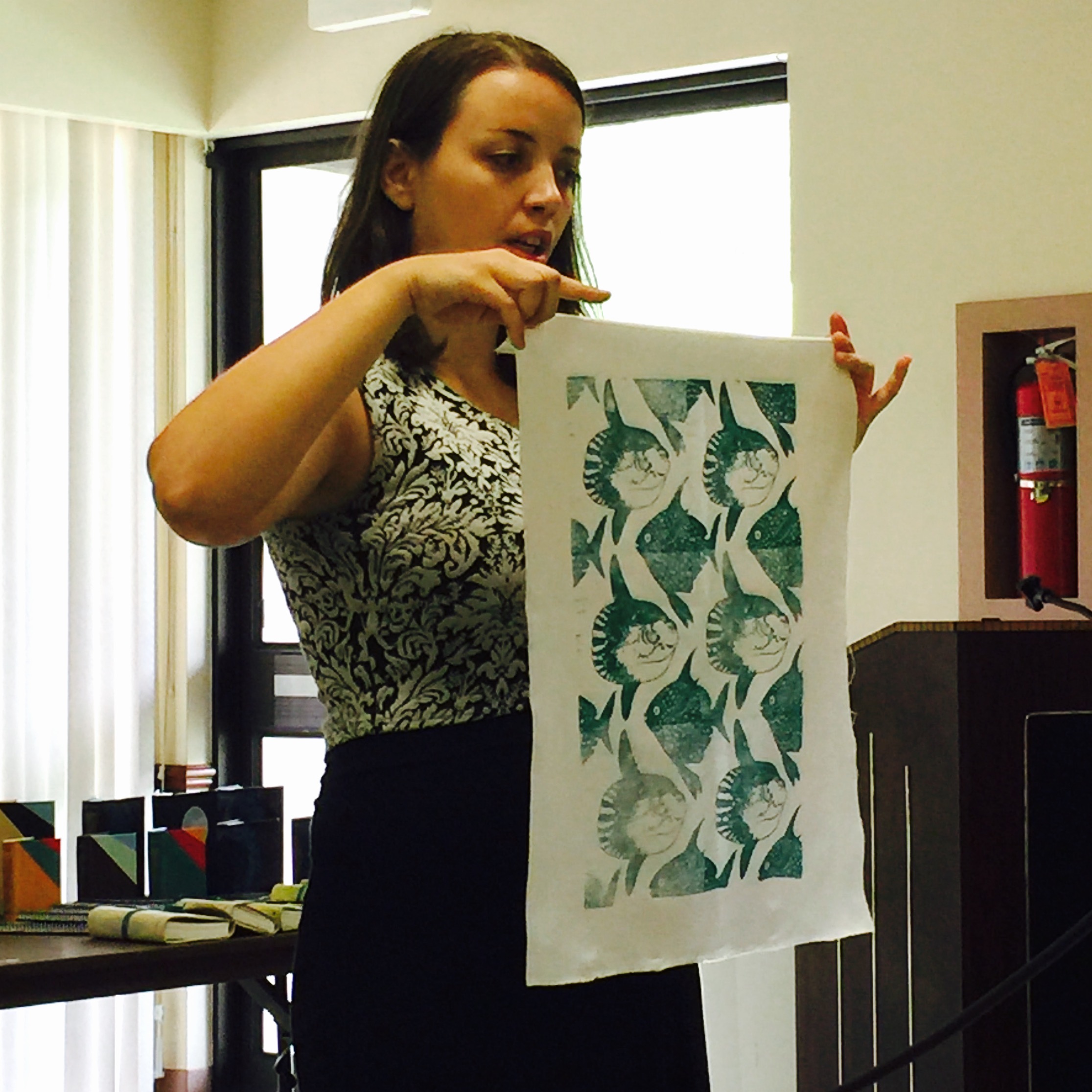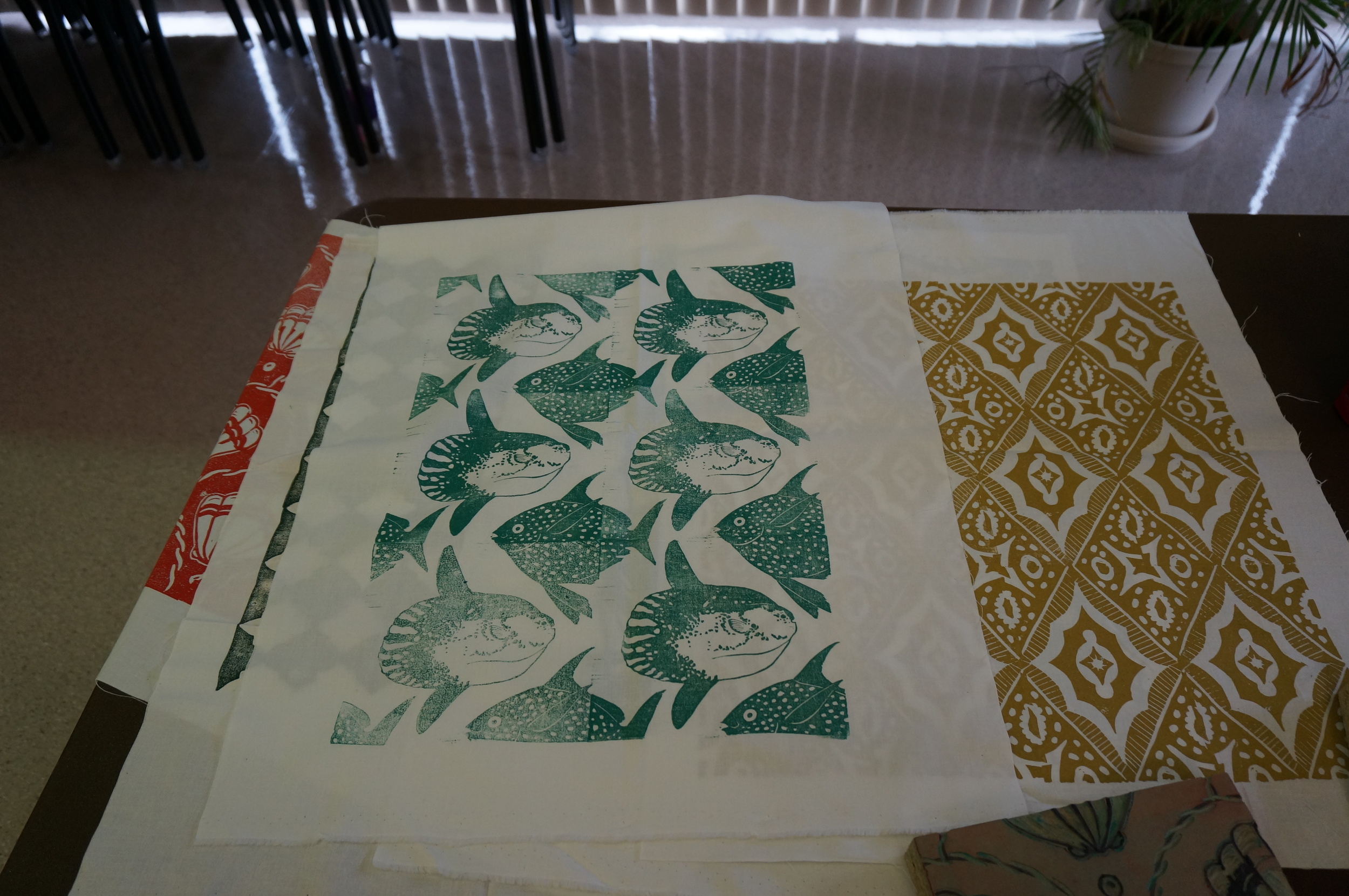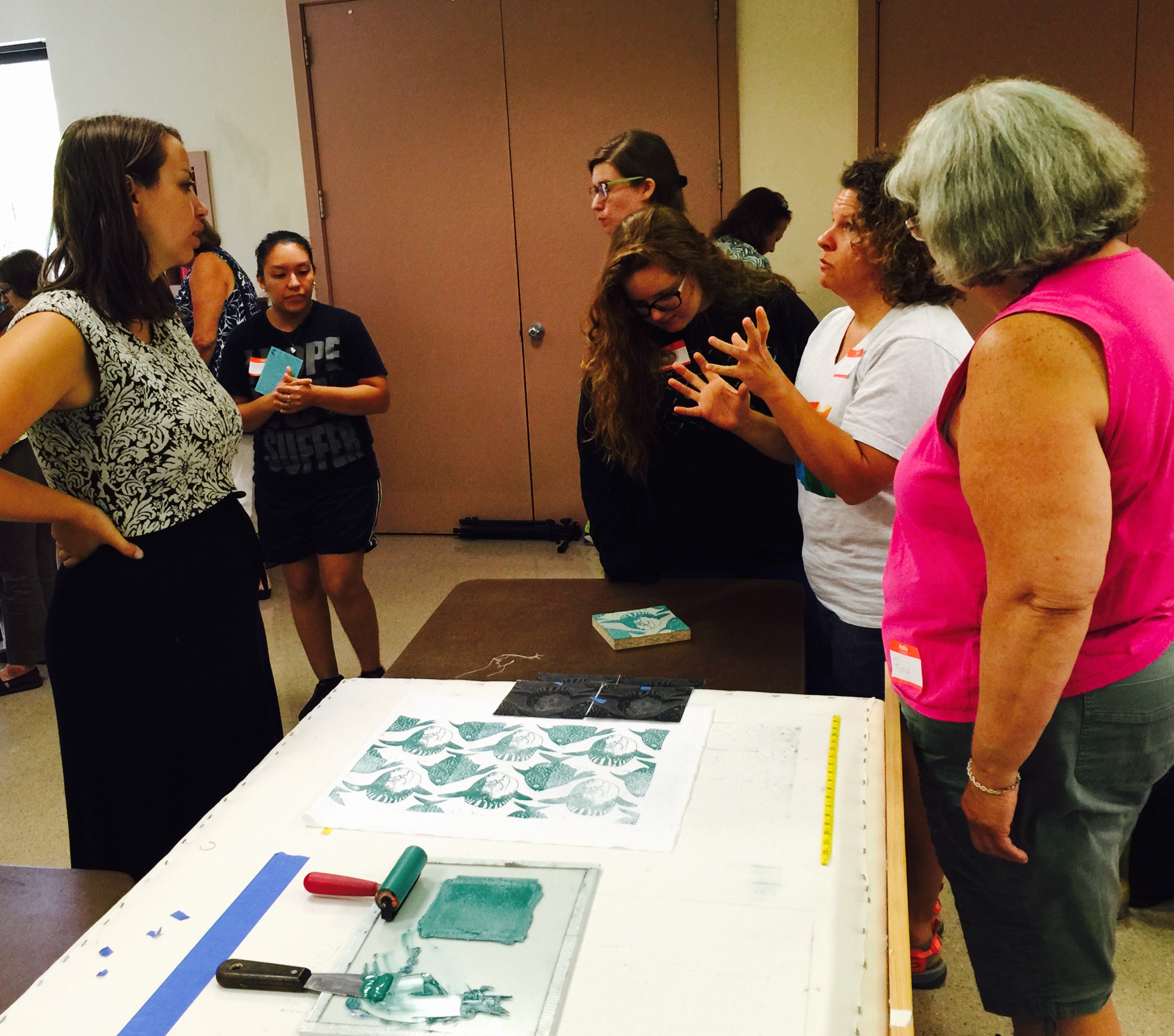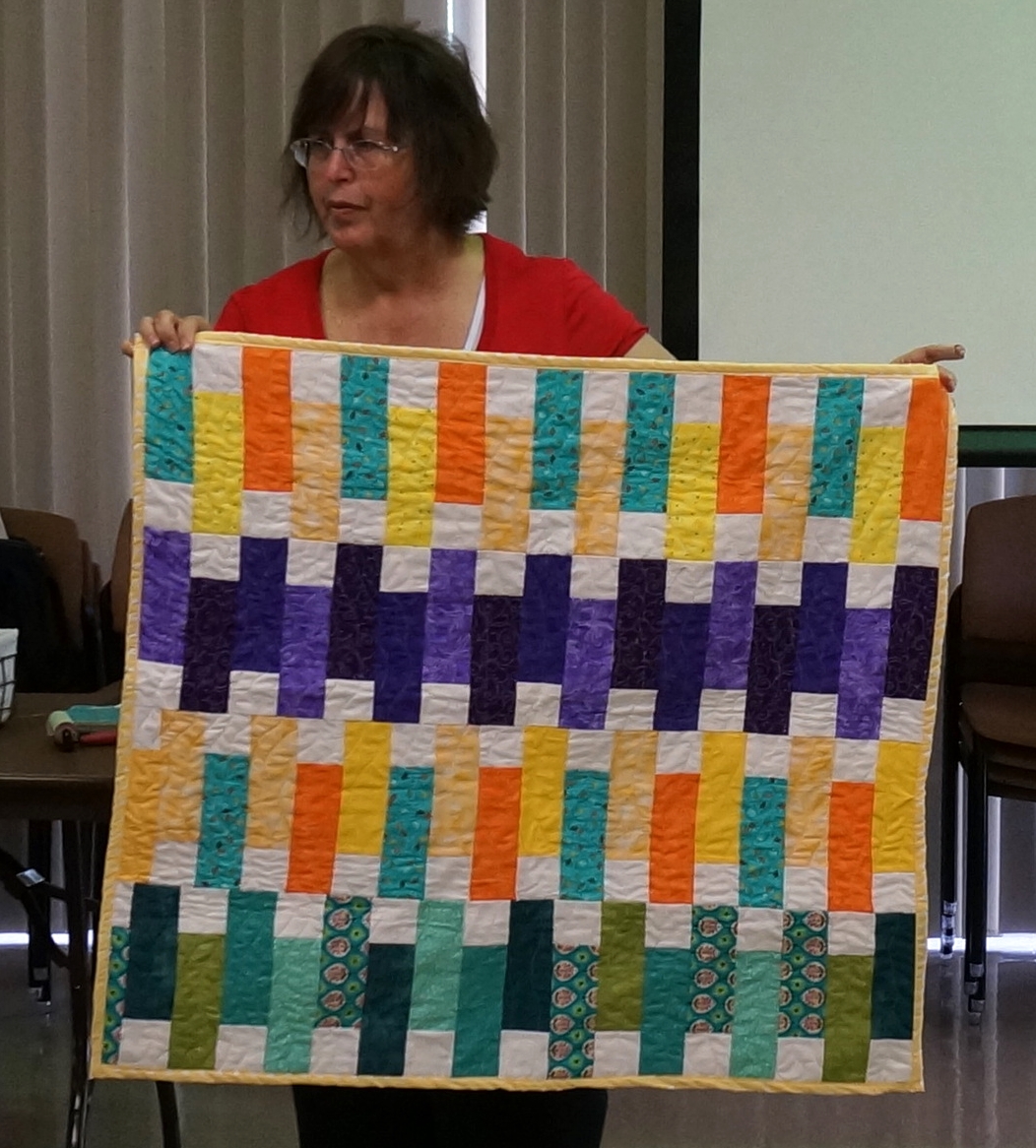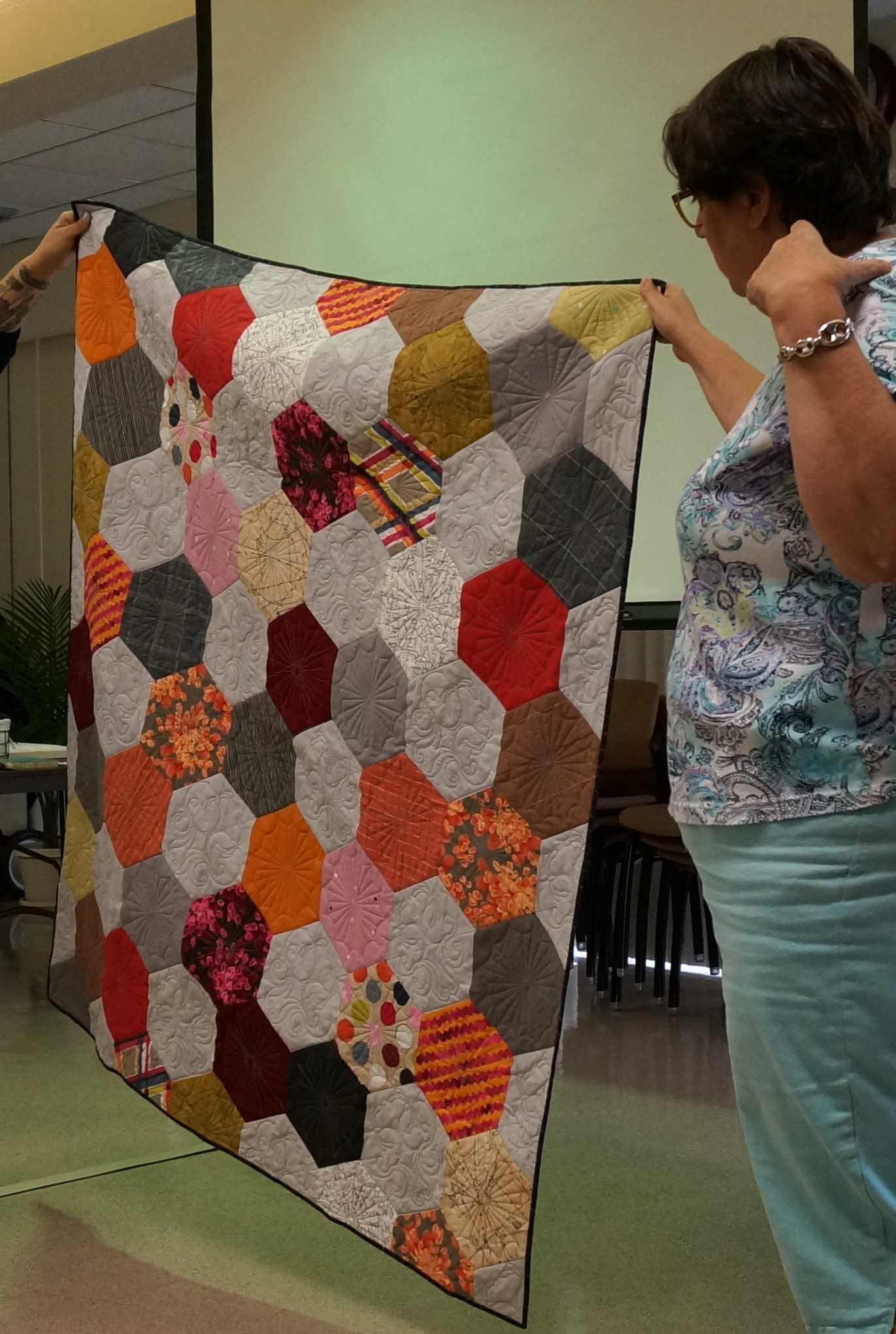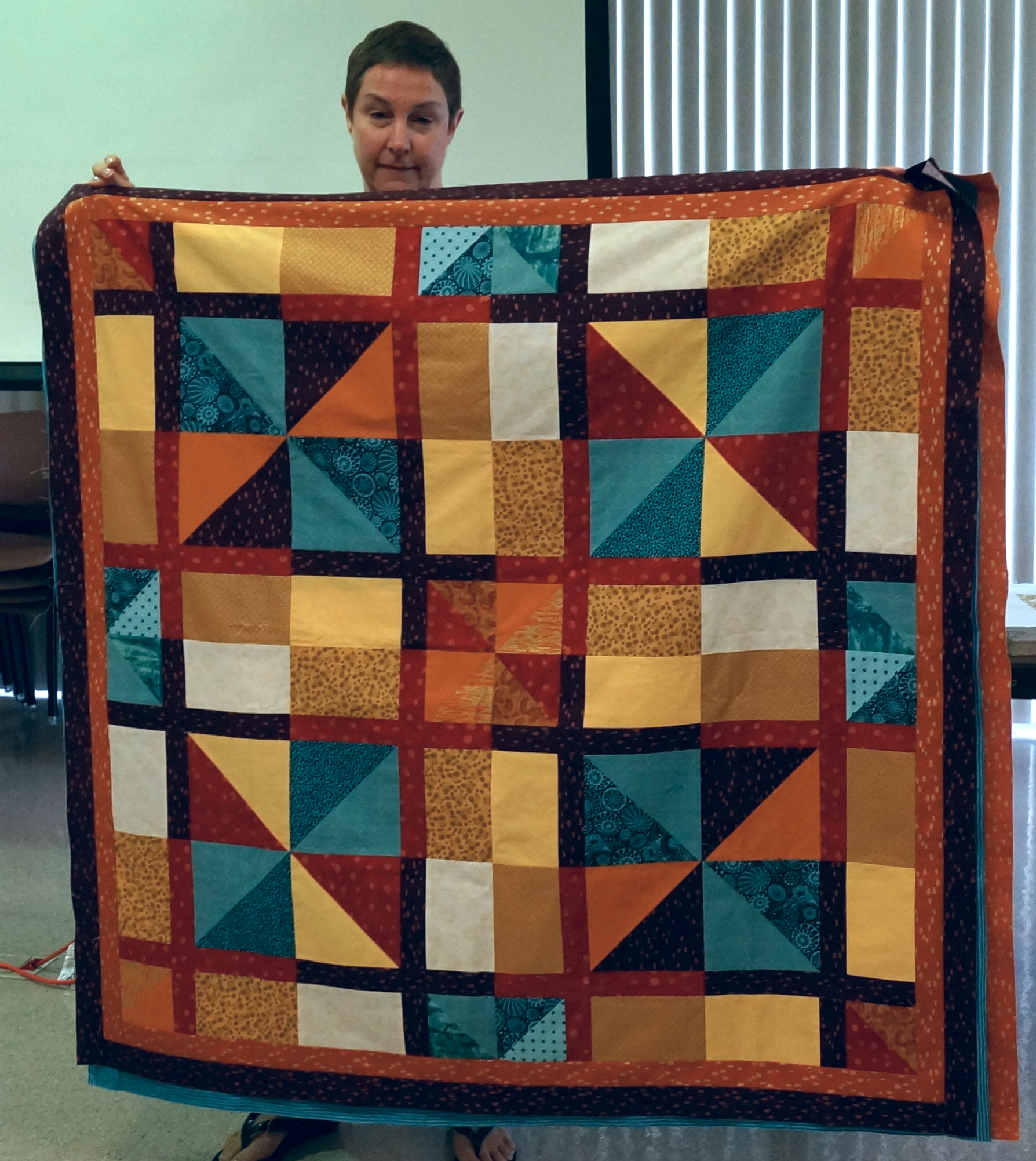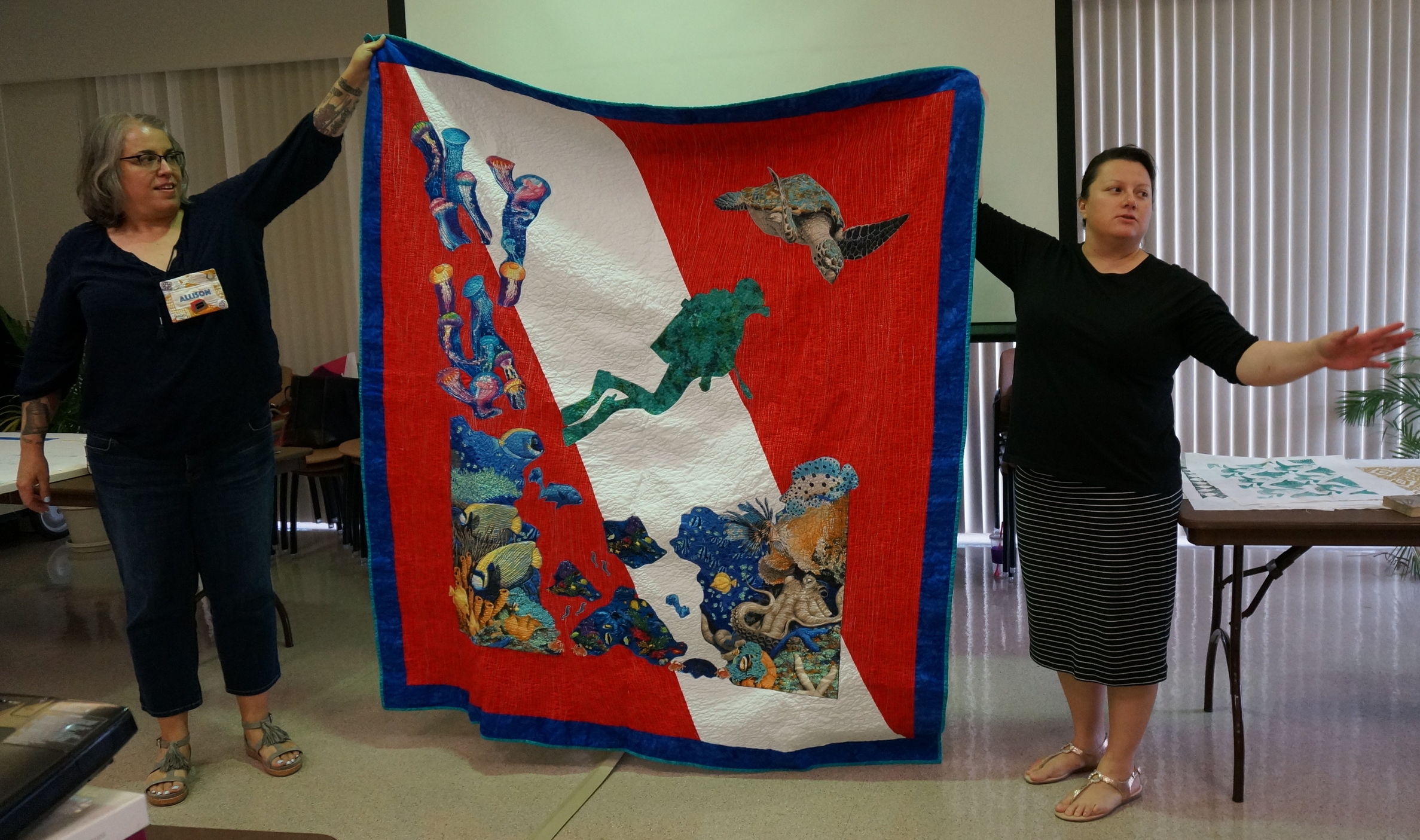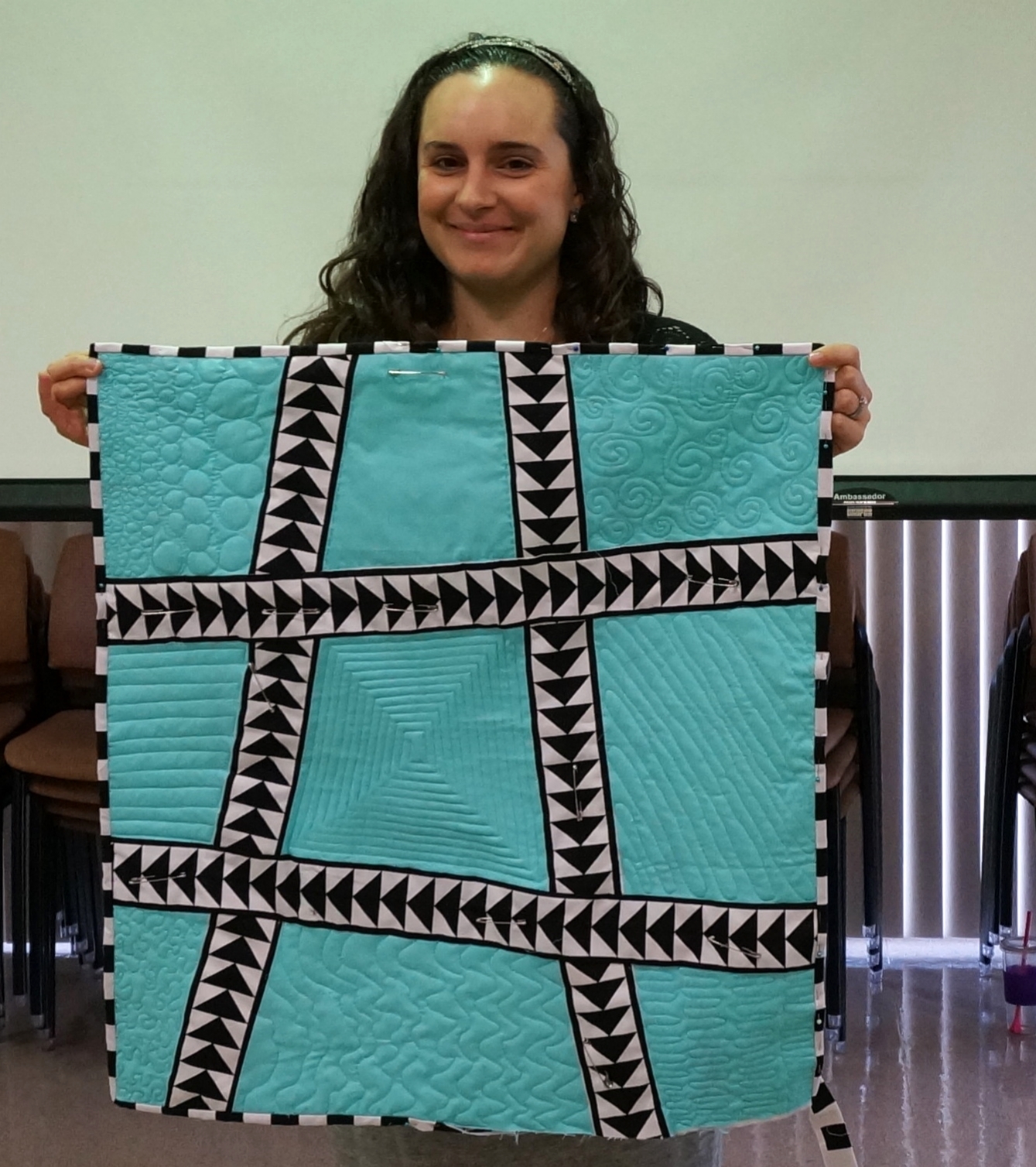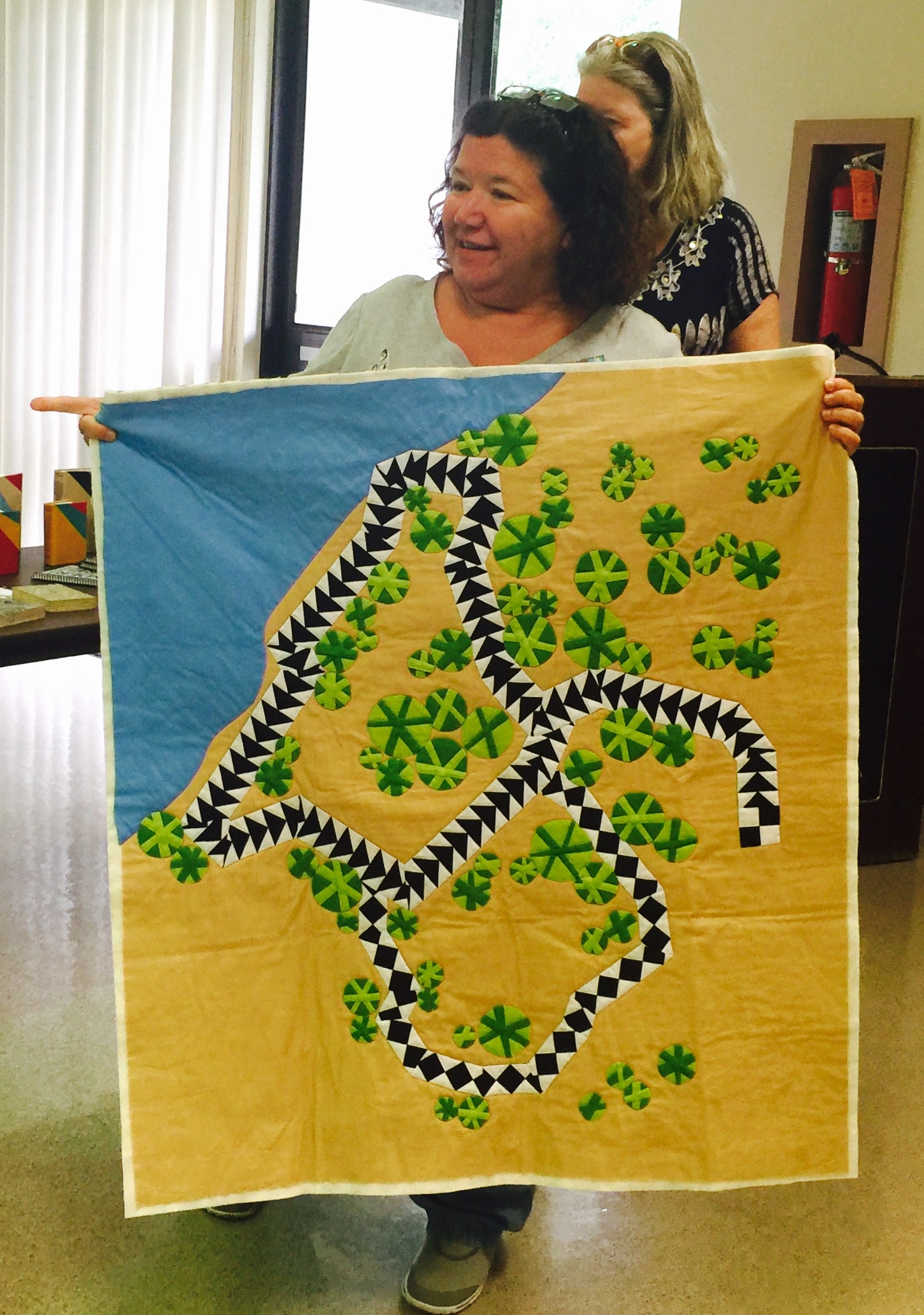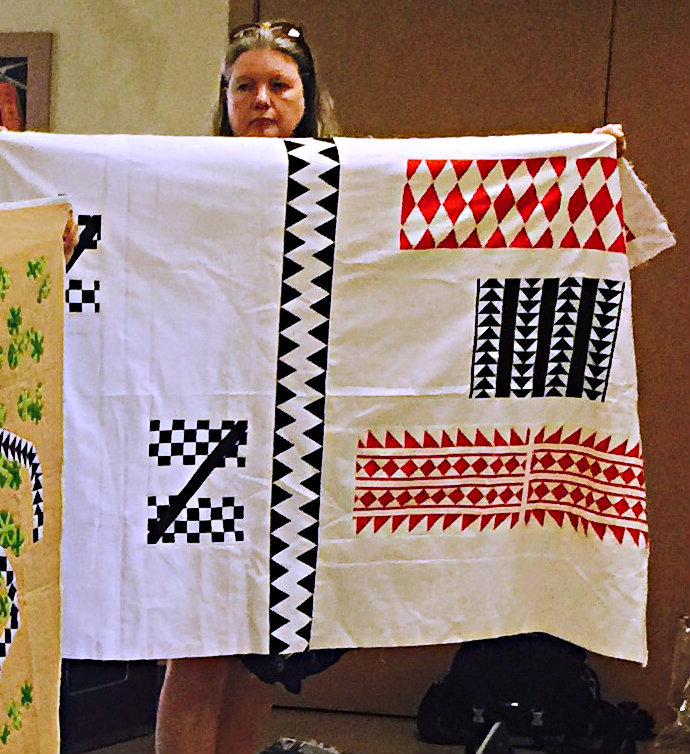 President Allison Schnackenberg opened the meeting at 1pm, check out all of those smiling faces! Thirty-two members and 6 guests were in attendance. The President's icebreaker this month was "What is your quilting Kryptonite?". Apparently, our members have some issues with FMQ, binding, making the quilt sandwich, Y seams, trimming and squaring up, paper piecing and opening up new fat quarter bundles. It was all in good fun and very interesting to hear what makes some quilters nervous.
QAL
VP of Projects Patti Auten demonstrated how make of block number four. Round three boxes were exchanged. Be sure to post your progress on Facebook, Instagram (#sfmqg) or on the blog.
BOM
The May Block of the Month was the scattered squares block. The winner of the drawing for the May blocks was Susan Capone and the Jelly Roll was won by Marilyn Zier-Ehren. Please remember to use modern fabrics when making your blocks and to add your name onto the back of the block.
Special Topic: Demonstration of Block Printing on Fabric
Our guest for this month's special topic was Ingrid Schindall from IS Projects. Ingrid showed us some of the blocks and fabrics that had been made in her studio. She also gave a very interesting demonstration of block printing on fabric. The demonstration gave us a good overview of how to carve a linoleum block, setup the fabric and measure a grid for printing, how to mix the ink colors, apply in onto the block and print the fabric. The techniques Ingrid demonstrated are easy to do at home and we hope this technique has inspired you with a new way to embellish fabric for quilting. If you are interested in getting hands-on personal instruction and learning more about design, how to make repeats, lino carving, and trying out printing on some awesome professional equipment, we are hosting two workshops at Ingrid's studio in July.
Monogram Swap
Thanks to all of our participants in the Monogram/Initial swap. It was fun to make something with a letter on it. There were several different techniques used make the cute minis, bags, and bowls.
Upcoming Events
Sew Day! We are having an open Sew Day on Saturday June 11th from 10am to 4pm at Patch Reef Community Center. Come and work on your latest project, sew for our community service quilts, or make some progress on our Negative Space Challenge.
Negative Space Challenge: We are reaching the deadline for our members' challenge. We will have a special Show & Tell at our July meeting, and voting will take place. The first place prize is being sponsored by our favorite local quilt shop, Stitchcraft. Following the meeting there will be a special exhibit of all of the quilts at Fat Village Art Walk, hosted by IS Projects. There will be an opening reception for members and guests.
SFMQG will have two dates for the Block Printing on Fabric workshop at IS Projects, Saturday: July 9th and Sunday: July 10th. Please sign up for the day of your choice and check out the SFMQG Pinterest board for some block printing inspiration.
Quiltcon East 2017 will be held in Savannah, Georgia, Thursday February 23 to Sunday February 26th. Quiltcon is the annual gathering of modern quilters, organized by the national Modern Quilt Guild. Read our blog post to learn all about Quiltcon.
The Broward Quilt Expo (BQE) will be March 9-10, 2017. This year SFMQG is becoming a sponsoring guild, and we are adding a new category to the quilt show: Modern Design. We are very excited that Sherri Lynn Wood will be delivering the keynote lecture and teaching three workshops. Save the date and we will have lots more information coming up about BQE Exhibits, workshops and SFMQG participation.
Show and Tell
Our show and tell this month included some wonderful finished quilts for our community service project. We are almost at our goal of ten finished quilts!
We also saw some completed (or nearly completed) projects for the MQG Riley Blake Spring 2016 Challenge. We hope to see all of the finished projects at our June meeting!
We also saw some finished or nearly finished projects from everyone who attended our Word Play with Tonya Ricucci workshop last month.
Meeting Photo Gallery
Don't forget: If you would like to view all of the photos full size, hop on over to the Photo Gallery!
We look forward to seeing everyone at our Sew Day on June 11th, and our general meeting on June 18th.
~ Debby Schindall, Secretary